Invisalign in Porter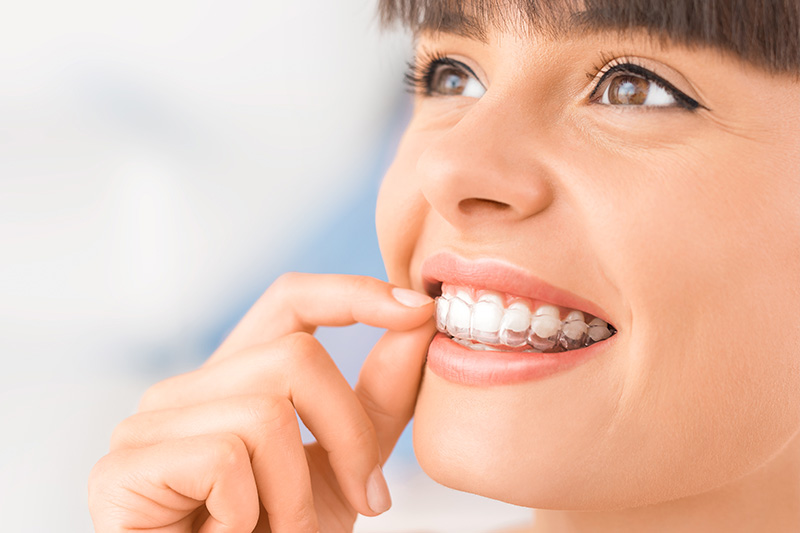 Free Invisalign Consultation
Is Invisalign right for you? Includes FREE Teeth Whitening when you start treatment.
Make Appoinment
Correcting tooth misalignment can benefit your oral health and boost your confidence. Sadly, though, many adults hesitate to get orthodontic treatment because they don't want to put up with the social stigma and inconvenience of traditional metal braces. If that's true of you, Invisalign in Porter, TX may be the solution you've been waiting for. It offers an aesthetically pleasing way to reposition teeth.
How Does Invisalign Work?
Instead of using brackets and wires to straighten teeth, Invisalign utilizes a series of clear thermoplastic aligners. You wear each aligner for 20 – 22 hours each day, and then switch to a new aligner every two weeks. Every time you graduate to a new aligner tray, your teeth move just a bit closer to their ideal positions.
Invisalign is effective for treating most mild to moderate orthodontic problems. Some individuals may need attachments to go with their aligners so their treatment proceeds as quickly and smoothly as possible.
When you visit your cosmetic dentist in Porter for your consultation, they'll give you a detailed breakdown of what you can expect throughout your journey with Invisalign. Advanced imaging software will even give you a realistic preview of what you can expect your smile to look like after your treatment is over!
What Advantages Does Invisalign Offer?
Invisalign's discreet appearance is one of the top reasons why so many people flock to it. However, it also comes with a number of other notable advantages:
On average, total treatment time with Invisalign is shorter than the treatment time for metal braces. You may begin to notice significant changes in your smile within the first couple of months!
There are no brackets and wires to irritate the soft tissues in your mouth.
Invisalign checkup appointments usually last only a few minutes.
Since the aligners are removable, there is no need to fret about any dietary restrictions.
The removable nature of the aligners also allows you to clean your teeth with ease — no need to navigate your floss around a bunch of wires!
The cost of Invisalign is in the same ballpark as that of traditional orthodontics. Oftentimes, insurance is willing to help pay for Invisalign.
What Is Daily Life With Invisalign Like?
You'll need to make a few simple adjustments to your daily routine while you're undergoing Invisalign treatment. For example, it's a good idea to carry a small oral hygiene kit with you at all times so you can give your aligner and your mouth a quick cleaning after each meal. You might also have to adjust your drinking habits; it's fine to consume plain water while you're wearing an aligner, but colored or hot beverages can warp or stain Invisalign.
If you ever experience any problems with your treatment — for instance, if an aligner gets lost or becomes unusable — simply call your dentist and ask for advice. You may need to temporarily go back to wearing a previous aligner until you can get a replacement for the one that got lost.